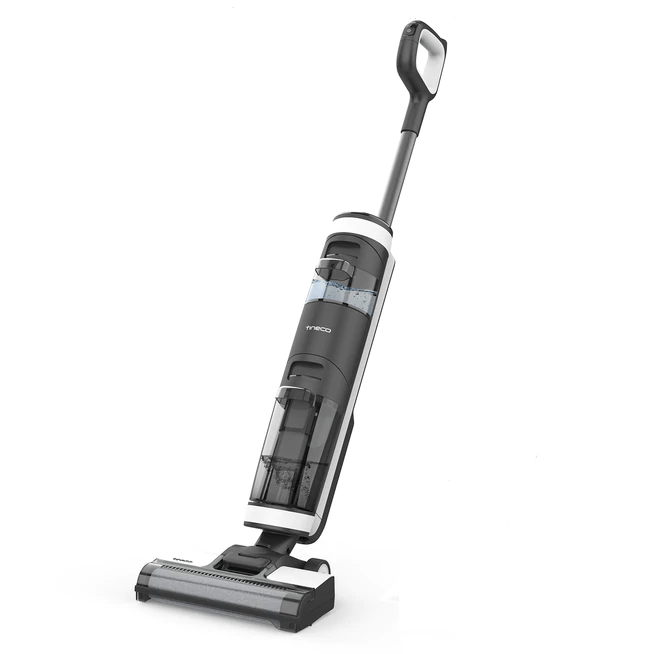 Tineco FLOOR ONE S3 Smart Wet Dry Vacuum Cleaner
Featuring Tineco's iLoop Smart Sensor Technology
The Tineco Floor One S3 is a powerful cordless wet dry vacuum cleaner designed for sealed hard floors. Its intelligent sensors detect wet and dry messes, automatically adjusting suction power and water flow for a thorough and streak-free clean. Experience the convenience of vacuuming and mopping in one smart step, saving you time and effort.
Cordless, Lightweight & Easy To Use
The Tineco Floor One S3 offers extended battery life, with runtime of up to 35 minutes. The suction and battery power are intelligently optimized, ensuring efficient and consistent cleaning performance. Enjoy the freedom of cordless cleaning without compromising on power.
5-in-1 Self-cleaning System
The 5-in-1 self-cleaning system of the Tineco Floor One S3 keeps your hands clean and your home odor-free. It features a clean water tank and a dirty water tank, ensuring hygienic and separated storage of clean and dirty water. Experience the convenience of a self-cleaning system that takes care of the cleaning process for you.
LED Display & Voice Assistant
The all-in-one LED display, built-in app connectivity, and helpful voice assistant provide a seamless and intelligent cleaning experience. Monitor the cleaning performance in real-time, and receive guidance and alerts for optimal cleaning results. Please note that the Tineco solution is recommended for long-term use, as the use of non-Tineco solution may cause corrosion and damage to the machine.
Or use secure checkout